25 Feb

The Metrics: 2015-2019

What's a good finish time?
What's the average Olympic distance swim split?
Will I be the only first-time triathlete out there?
How many women generally participate?

We hear these questions (and so many others) quite often. After a bit of our own curiosity, we decided to run a few numbers and find out for ourselves. Read below to check out some simple demographic and preliminary performance metrics from more than 2,600 entries over the past five years. We'll dig a bit deeper through the coming season.

For the record, our standard answer to "What's a good finish time" is always: "ANY finish time is a good finish time," because it is. Whatever your reason, whatever your ability, whatever your goal, we'll be there to celebrate whenever you get there.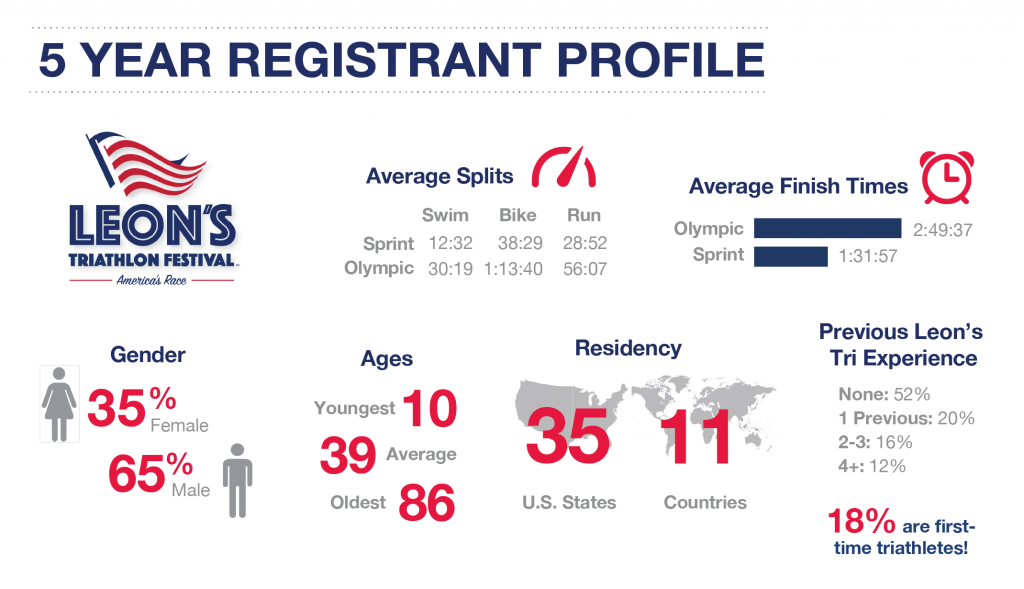 Gender Split
Listen up, ladies: Leon's is a great event for everyone — including you! While we have been male-centric in recent years, we aren't far behind the national gender split (40% female, 60% male). We hope to see those numbers balance-out soon enough.
Residency
We may be small, but our history draws participants from all over the land. Athletes over the past five years traveled-in from 35 states and 11 countries. Since 2015, our largest concentration of athletes came from: (#1) 73% – Illinois (thank you, Chicago), (#2) 14% – Indiana, (#3) 2% – Wisconsin, (#4) 1% – California (believe it!), and (#5) 1% – Texas!
Age
The sport's average is 40, yet we welcome athletes of (nearly) all ages. Believe it or not, experienced 10 year olds with parental consent are able to enroll.
Average Splits
For simplicity, we're referring to "splits" as the total time required to complete each discipline (swim, bike or run). Remember, in triathlon, finish times include the cumulative swim, bike, run and transition time.
There are lots of little takeaways from this portion. In our opinion, one of the most important is the swim splits. The average swim takes just over 12 minutes for our average Sprint distance competitor, which we hope is a HUGE confidence boost for those considering their first triathlon.
Average Finish Times
The average finish times are quite consistent from year to year, with our Sprint athlete coming-in at 1:31:57. Again, we hope this brings smiles to st for first-time participants, recognizing the training required to complete short distance triathlon is quite reasonable (and, dare we say it, actually enjoyable).
Our Olympic athletes clock an average of 2:49:37. This may be a bit faster than most Olympic courses, but remember our Bike Course measures only 23.2 miles (1.6 miles short of a true 40k measurement).
Think you can beat those averages?
Let's find out on June 7!