30 Jan

Born in 1983. Still Thriving in 2020.

Leon's Triathlon has been known for many things since 1983.

We launched in Hobart, Indiana when the triathlon industry was still in its infancy. We produced the first national amateur championship under the USA Triathlon Federation and hosted the nation's first Military Championship (a qualifying event for the World Military Games) in the 90's. We host Dare2tri's Injured Military Camp. We shut down the interstate for our bike course. We awarded an Arabian horse and floated cars on our swim course. We were televised on ESPN (and are now broadcasted by Comcast to millions of households annually). But most importantly, we celebrated our soldiers and memorialized our fallen heroes. 

Back then, we were small, nimble and weren't afraid to take risks that provided memorable customer experiences. After tremendous change in the multisport space over the past 37 years, we're not only grateful to still be here, but excited to continue thriving as we push the envelope and continue changing lives for the better.

In that very spirit, we're ecstatic to share a few of our enhancements during this offseason: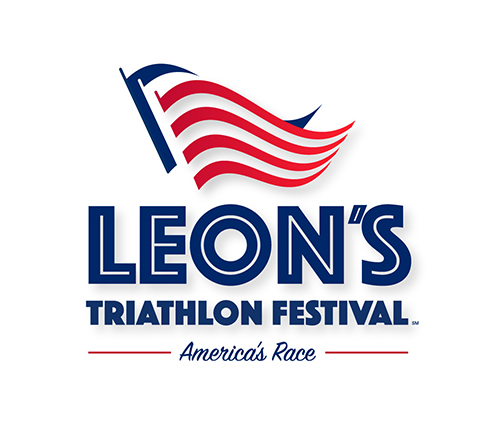 A Fresh Look
We adore our iconic shield and banner logo, but feel it's time to refresh our brand to better honor our ultimate purpose, as well as showcase a variety of exciting activities coming to event weekend. Our new logo is inspired by Larry "The Flagman" Eckhardt, who travels the country and plants American flags in support of fallen military heroes. In spite of some medical challenges, Larry plans to deploy 2,500 flags throughout the Wolf Lake venue this year – an homage to the 25th anniversary of Leon's original Military Championship event. 
A Familiar Face
You've surely seen him around the endurance world, most notably at the helm of the Chicago, NYC and other Life Time Tri Series events. We're ecstatic to welcome Scott "Hootie" Hutmacher as the Executive Race Director for Leon's Triathlon Festival. Hootie brings with him a wealth of industry experience and a variety of industry experts, each of whom has made incredible contributions to this event over the past few years and is committed to doing the same in 2020 and beyond.
A Bigger Weekend
A new image and a dedicated staff allow us to think bigger in 2020. To encourage more people in achieving health and fitness goals, the weekend will expand beyond the iconic short course triathlon. Our standalone event is being transformed into a "Festival," which will offer individual and team opportunities, as well as a variety of other activities. Please stay tuned for details! 
A Brighter Future
Whether you're an athlete, volunteer, supporter or, neighbor, meet us at Wolf Lake Park June 5-7 to help celebrate our first responders and members of the U.S. Armed Forces. Together, we'll shine a light of support to hundreds of service men and women. Together, we'll showcase what their sacrifice allows us to accomplish.
Here's to thriving for the next 37 years!